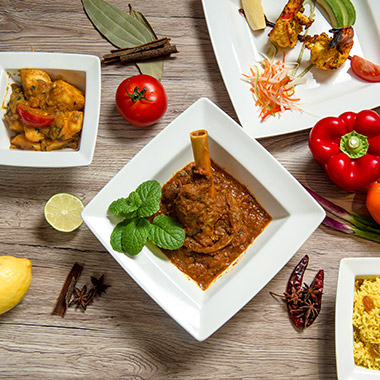 Introduction
Vegan fine dining is more popular than ever before. Gone are the days of searching long and hard for a vegan menu. Now, there are many eateries which showcase vegan cooking at its best.
As lovers of vegan dishes, we have gathered the top places to enjoy a bite to eat if you are willing to travel around. With Crawley only being a 35-minute drive via the A23, many spots between here and Brighton showcase vegan cuisine at its best. Whether you have tried all the places close to you or want to see what a new area offers, you will not be disappointed with any of these options.
Best Vegan Restaurants Near Brighton
  Zari Restaurant
Vegan Indian food is something special, so a menu was created just for meat and dairy-free guests at Zari. As an award-winning restaurant and cookery school, the chefs are all passionate about showing how delicious vegan food can be. Zari offers the most extensive vegan menu from this list, with everything from Vegetable Masala to Stuffed Paratha.
If you are willing to jump in the car or hop on the train, you will surely be amazed by the range of dishes at Zari when you visit this vegan Indian restaurant near Brighton.
Price range: $$-$$$
Location: 41-43 High St, Crawley RH10 1BQ
Contact information: +44 1293 525107
  Bella Italia Crawley
If the lure of pizza and pasta entices you, a trip to Bella Italia Crawley is a great choice. Offering vegan dishes for each course and the option to tailor other main menu items, Bella Italia shows that traditional cheese and meat-based dishes can be given a modern twist.
Price range: $$
Location: Unit 8, Crawley Leisure Park, Crawley RH10 8LR
Contact information: 01293 699334
  Plazo Uno
Plazo Uno offers delicious Tapas with plenty of vegan options. Offering an authentic taste of Spain, this family-run restaurant has a cosy ambience and a wonderful selection to choose from.
Price range: $$
Location: 76 Church Walk, Burgess Hill RH15 9AS
Contact information: 01444 245244
  Loving Hut
Offering a modern vegan way to enjoy Asian cuisine, Loving Hut has a contemporary design and menu to match. The entirely vegan menu showcases the many possibilities that meat-free cooking offers and highlights that flavour should never be missed during vegan dishes.
Price range: $
Location: Southgate Parade, 1 Southgate Dr, Crawley RH10 6ER
Contact information: 01293 530340
  The Grenadier
Based in Hove, The Grenadier offers a selection of traditional pub classics with a vegan twist. With burgers to vegan kebabs, there is certainly a lot to choose from.
Price range: $
Location: 184 Hangleton Rd, Hove, Brighton and Hove, Hove BN3 7LT
Contact information: +44 1273 773852
  Peteks on the Park
Last but not least is Peteks on the Park who offer a brilliant vegan brunch menu. Affordable pricing and great choice are on offer if you are looking for a bite to eat during a busy morning of exploring the local area.
Price range: $$
Location: 155 London Rd, Burgess Hill RH15 8LH
Contact information: 01444 870929
Conclusion
From Indian eateries to modern pubs, there are many vegan places to enjoy near Brighton. Thanks to the brilliant transport links, getting to all these spots is easy. The only issue you may have is whittling down the amazing selection of vegan delights from the menus that are on offer!