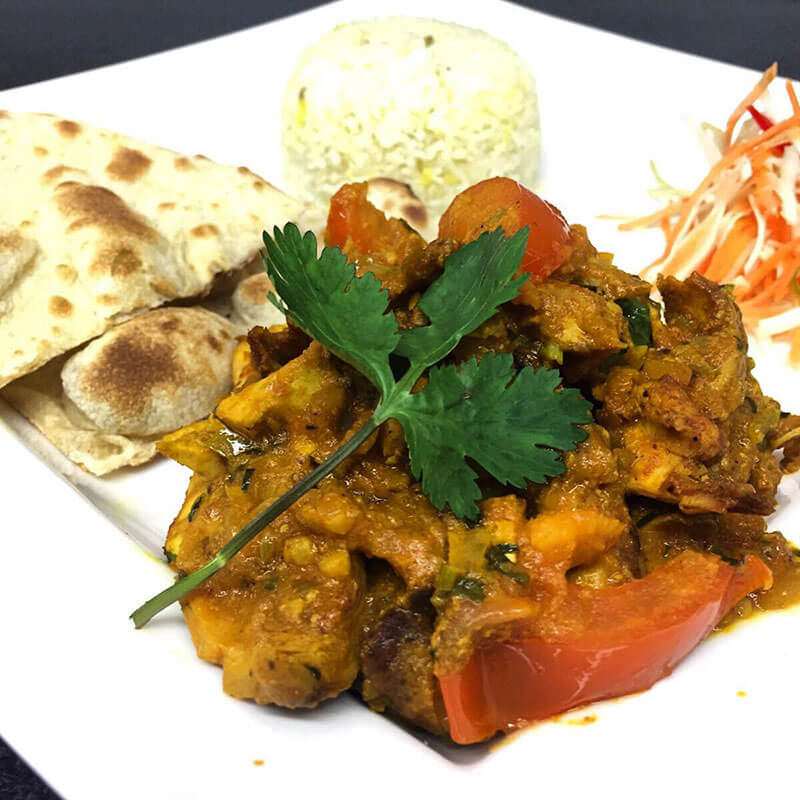 Ever been stuck with leftovers and no inspiration but the turkey sandwich? Indian food doesn't have to be hard to make and our leftover turkey recipe is just the example of home Indian cooking you've been looking for.
The Best Turkey Bhoona Recipe
Serves 2
Ingredients
250gm left over shredded turkey
2 chopped onions (medium size)
1 chopped tomato (medium size)
2tbs cooking oil
½ tsp garlic paste
½ tsp ginger paste
½ tsp chili powder
½ tsp ground turmeric
½ tsp cumin powder
¼ tsp ground white pepper
1 tsp ground coriander
1tsp paprika powder
½ tsp garam masala powder
2-3 green chilies, chopped (to taste)
50ml water
Salt to taste
Freshly chopped coriander for garnish
Method
1. Heat the pan and pour in the oil. Add chopped garlic when the oil is hot and add the chopped onion when the garlic is brown. Sauté for about 2 minutes or until the oil comes out of the onion and is clear. Then add the green chilies and chopped tomatoes with a little salt and stir. Place all the ground spices in a small bowl, add a little water and mix it into a paste. Add the paste to the onion and stir well ensuring it doesn't set at the bottom. Add the leftover turkey and stir for a few minutes to mix well. Finally, add around 50ml water and cook on low heat keeping it covered for about 5-7mins. Keep stirring from time to time to ensure it doesn't settle at the bottom.
2. Simmer on low heat until the turkey is well covered by the spices.
3. Remove from heat and sprinkle the chopped coriander.
4. Serve with either rice, naan bread or as a spicy sandwich filler.
Bon Appetite!